HI
nazmi altıntaş
,
Welcome to the IMDb Poll message board. Thank you for your poll suggestion. Thank for updating your list (
https://www.imdb.com/list/ls095487724/
) to include a properly working discussion links.
I closed the other thread you posted to avoid confusion.
Please remember, once someone replies to a post, only an admin can edit that post.
I think Nicholson deserves to be included.
HOMEPAGE POLL!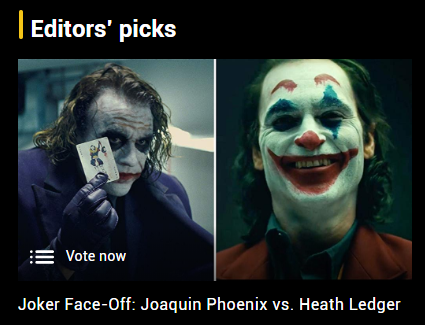 Congrats!
I think you're the first user whose first poll is featured at the IMDb homepage.
(Edited)
Congratulations
altntasnazmi
. This is the
first
time your poll has been featured at IMDb Home Page (
http://www.imdb.com
) since 
July 28, 2015
.

23 February 2020:
Joker Face-Off: Joaquin Phoenix vs. Heath Ledger
List of
Home Page Polls
FAQ: Polls Featured at IMDb Home Page
Poll Author - Number of Polls Featured at IMDb Home Page (Since July 28, 2015) 
Dibyayan_Chakravorty
 - 97
pere-25366
 - 34
urbanemovies
- 32
ElMaruecan82
- 22
Rafael_M
- 15
Hoekkie
 - 15
Paok-Kilkis
 - 15

KhaledKalache
- 13
Simba63
- 13
IMDb-Editors
- 13
Kirk-Picard
- 10
leavey-2
- 10
The-Social-Introvert
- 9
yrnej
- 9
sir-mauri - 9

dan_dassow
- 8
rubyfruit76
- 8
pbn
- 8
peaspot
- 6
NDbportmanfan
- 6
masandaglinus123
- 6
simeon-83777
- 6
Eagles90
- 6
Teriek-Williams
- 5
penchofifteenpolls
- 5
TsarStepan
- 5

Manya086
- 4
Mega_wizard
- 4
DoctorBuster
- 4
borimor
- 4
Phoenix_R_3
- 4
iakhtar-33380
 - 4
jalapenoman
- 3
Silitonga
- 3
NoPantsBatman
- 3
fancinderella
- 3
edindenco-154-269285
/
Ed_Jones_XLIX
- 3

TheMovieSmith
- 2
jamesh5
- 2
KyBelle86
- 2
RbDeraj
- 2
moatazaboalghuit
- 2
lnvicta
- 2
Debjit_Hazra
- 2
SkyDeshpande
- 2
guillenpascal
- 2
dgranger
- 2
ahmad_alaghbar
- 1 
mattyankster10
- 1 
bluehunter16
- 1 
Pictoris
- 1 
JoelRH
- 1 
BigBadDolemite
- 1 
alioth4
- 1 
vamken46
1 
Djesika
- 1 
alex_1-801-348552
- 1 
rose-taylor
- 1 
FisnikFizz
- 1 
Drevnibor
- 1 
Garfield_the_Avenger - 1 
vibhorpanda29
- 1 
buddhalou
- 1 
waspinatorbj
- 1
muzzle
- 1 
Jediknight29
- 1 
Lucilfer
- 1 
Wonder_Gal
- 1
Hyker
- 1
jamariana
- 1
daniellejeffrey
- 1
DeadMan66
- 1
jamesgandrew - 1
Chihir0
- 1
chandrabhanusolanki
- 1
joesiegel
- 1
Philip_Marlowe_
- 1
BonaFideBOSS
- 1
altntasnazmi
- 1
(Click image for larger image.)
I'm sorry heath ledger was good actor, and it sad he died, but I always felt his joker was lack luster