Paok,
For your consideration:
The One-Armed Man (
Bill Raisch
) from
The Fugitive
(1963–1967)
https://www.imdb.com/title/tt0056757/characters/nm0707199
https://www.imdb.com/title/tt0056757/mediaviewer/rm2661106432?ft0=name&fv0=nm0707199&ft1=ima...
https://www.imdb.com/title/tt0056757/plotsummary
... The one armed man does not appear in many episodes, but is an evil presence throughout the series. When he does appear, he is ruthless, violent, and simple-minded, with good instincts for self-preservation. Like Kimble, he is a fugitive, having to run from the relentless pursuit of Kimble. Toward the end of the series he appears more often, and Kimble learns his name, ...

By the way, the late
Andreas Katsulas
played the One-Armed Man (
Sykes
) in the film version,
The Fugitive
(1993). Born in St. Louis, Missouri, Andreas came from a working-class Greek-American family.
No TV Sci Fi/Fantasy villains list is complete without a
David Anders
character.
FYC Julian Sark in Alias or Adam Monroe in Heroes or John Gilbert in The Vampire Diaries or Blaine DeBeers in iZombie.
FYC:
Damien Darhk (Neal McDonough) in Arrow & Legends of Tomorrow
Cole Turner/Balthazar (Julian McMahon) in Charmed (1998)
Eobard Thawne/Reverse Flash (Tom Cavanagh & Matt Letscher) in The Flash & Legends of Tomorrow
David Robert Jones (Jared Harris) in Fringe
Olivia Godfrey (Famke Janssen) in Hemlock Grove
Gabriel 'Sylar' Grey (Zachary Quinto) in Heroes
Klaus Mikaelson (Joseph Morgan) in The Vampire Diaries
Kai Parker (Chris Wood) in The Vampire Diaries & Legacies
Whiterose (B.D. Wong) in Mr. Robot
Regina Mills / The Evil Queen (Lana Parrilla) in Once Upon A Time
Mr. Gold / Rumplestiltskin (Robert Carlyle) in Once Upon A Time
John Greer (John Nolan) in Person of Interest
Faustus Blackwood (Robert Coyle) in Chilling Adventures of Sabrina
Grant Ward/HIVE (Brett Dalton) in Agents of SHIELD
Lex Luthor (Michael Rosenbaum) in Smallville
FYC.........Glowing eyes and all! Dan, you ought to like this one!
Adria
https://www.imdb.com/title/tt0118480/mediaviewer/rm1008412160
(Edited)
Spike from "Angel"

The Borg queens from any Star Trek series starting with "Star Trek: The Next Generation". Also add Picard when he was Locutus of the Borg .

- Q

- don't forget "Battlestar Galactica"
(Edited)
Another FYC
Alfred Bester
https://www.imdb.com/title/tt0105946/mediaviewer/rm3411939072
Wanted to used Mr Morden, but there are no Images in the database....Yet!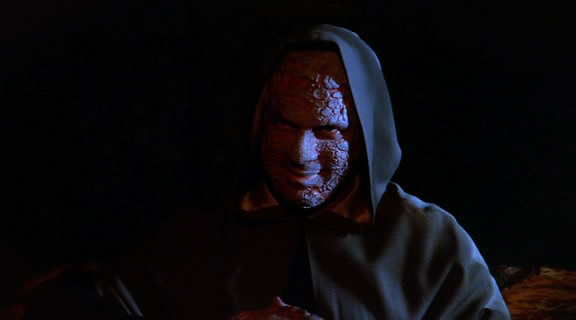 (Edited)
Lots of great ones, but since I have a very predictable
"Twin Peaks" (1990)
kick thanks to 30th anniversary you probably know my pick. 
I just rewatched the international version of
the pilot
, which pretty much contains a blueprint for the character and
Frank Silva
was really amazing for a non-professional actor, no wonder his fewer scenes won him the role for remainder of the series which was pretty much tailor-made. He was amazing throught the whole series... And seemingly a really nice guy in real life.