https://www.imdb.com/title/tt0103204/
Movie title: Vice Academy Part 3 (1991)
I can not pull this movie via search on IMDB.com. I do see this movie listed under the director's fimography, so it seems that it's on IMDB already.
It does
. (to me)
Not for me... :-(
Unfortunately, I get the same results when I use Chrome (or to be more specific Chromium on Linux).
No one will find it. "BEFORE" making ANY comment, I tried 6 ways from Sunday to have it come up in a search. No luck. As far as the
"
I'll let you know once/if I find it", you will not be able to keep that promise.
With the exact title "tt" it is viewable.
But on a standard search, expanded search or advanced search, it does not exist.
On a google search it is findable.
This is an issue that will have to be addressed by an IMDb staff member, Jeremy.
Bonefide.
A note.
Col Needham used to pull my replies such as yours and send me a reason for pulling them as not helpful.
Wanting to help is good.
But research first. Comment second.
I realized that several months after I started and had many of my comments removed.
Col is not here to pull comments anymore.
I'm passing on my wisdom to you.
Please be more informative.
It shows up if you enable adult titles/names in search. It is not clear why the other Vice Academy titles show up but this one does not. It does not seem to have the genre or keywords that I would expect to identify it as adult.
Jeremy McFarland
,
You have to enable adult titles/names in your searches.
This is how you do it.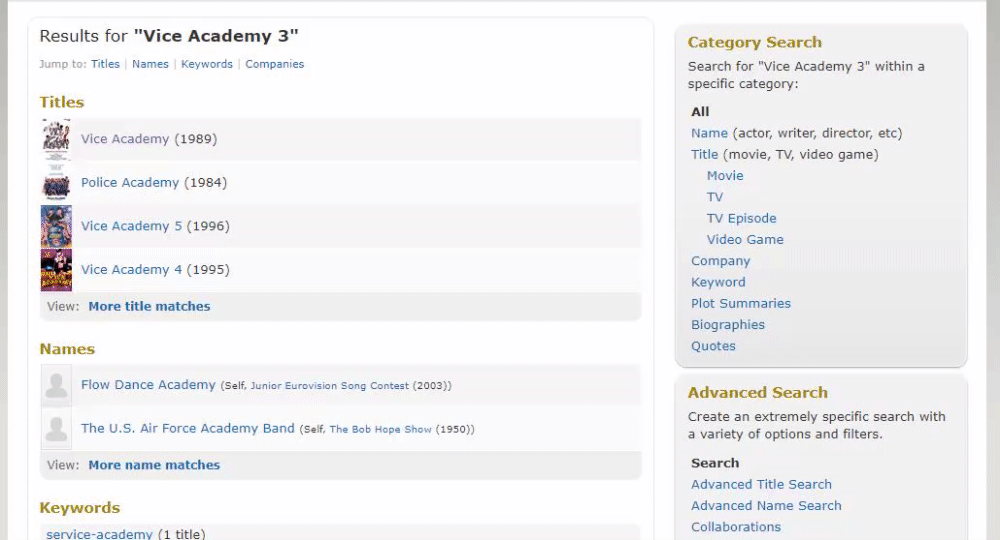 Thanks to 
Owen Rees
. 
Just wondering about how long it usually takes staff to see threads like this one?

Related Categories
28152 Conversations
4243 Followers