Hello,

Thank you for your post.

If they originally aired theatrically they should be left as standalone titles and shell episodes should be made as their place in the correct order in the series.

If they originally aired as episodes of the series then these should be merged into the parent series.

I hope this helps!
https://www.lawinsider.com/dictionary/television-series
Television series
means a group of programs created or adapted for television broadcast with a common series title,
usually related to one another in subject
.
Now, you all have come up with "YOUR OPINIONS"
I USE FACT gleaned from my knowledge, and not believing in gossip and hearsay when presented.
This ....
https://www.lawinsider.com/documents/8zwZjZ3BnBP#television-series
2.20. "Television series" means a group of programs created or adapted for television broadcast with a common series title, usually related to one another in subject.
This discussion has happened before.
See this.......ZERO EPISODES.....
A recurring weekly program. A TV Series
What's the difference you ask?
They showed "UNRELATED MOVIES" from the same Company Fox or Universal or whoever they had a contract with.
Just because Hallmark is making them in house does not make it a series with episodes. Episodic TV requires reoccurring characters or theme.
Now if you all want to ignore West Virginia's definition and IMDb's own omission of the titles as episodes for the title above, then you all need to go back to school and PAY ATTENTION in English class.
Now you may choose to find lesser credible sources to debunk this, but the term "LESSER CREDIBLE" means just that
Less credible.
I rest my case!
Will no longer reply to nonsensical postings here.
As far as your Twilight Zone example by the way...they had a theme...Tales of the bizarre.
Every week that same theme was ALWAYS used.
(Edited)
Note to IMDb Staff
Please ignore what
Ed Jones(XLIX)
suggested about merging. He is not distinguishing here between old-time movie serials (that's THEATRICAL) and programs produced for TELEVISION.
Note to IMDb Staff
I find the comments of
Ed Jones(XLIX)
very unhelpful since he is not offering much to go on (no sources of information, no solid rules, no similar cases, that sort of thing). Above, he's trying to get this topic merged with one that is about a completely different format. This isn't helping. Can you please tell him to restrict himself to facts and not start personal vendettas?
gromit82.
Saw your reply.
Not ignoring you.
Respect your input.
Thanks.

gromit82
Was thinking on this.
This really should be an idea thread.
Merging is incorrect as you state.
While the same idea is at play.
One is for Movie Serials getting episodes where there are none.
The other is for TV Movies getting episodes where there are none.

(Edited)
Notice:
Not one of you has made your point.

Some facts:
Unlike wikipedia, ctva.biz is a reliable site that was made by selected editors.
The editors researched these titles in the LoC and other places - they had to, there was no other online info yet back then.
They're even listed by name - we could potentially contact the writer of this particular title.


In 1952 HHOF had epi... installments every week.
They lasted 25 minutes each.
The only other 25 minute TV movies are unsuccesful pilots for series.

The programs are historical in theme, call it costume drama.

Another similarity is the actors; e.g. Sarah Churchill appears in most of the early episodes.


The IMDb has to be consistent.
The series operated on exactly the same principle as Studio One and dozens of other anthology series of the 50s/60s.

Now,
after
season 4,
THEN
it starts slowing down, with fewer, but much longer episodes. So there it's getting closer to a set of TV movies. E.g.:
https://archive.org/details/HallmarkHallOfFameTheLark
So post 1956 it's debatable - although they're still firmly in the same genres and themes.
The episode layer of the IMDb was introduced in 2006 I believe... it's time to accept it and move on. Posting lots of comments about it is not a good sign.
(Edited)
@Uberhamster
It's a movie.
I've confirmed it with the official team directly on
Facebook
.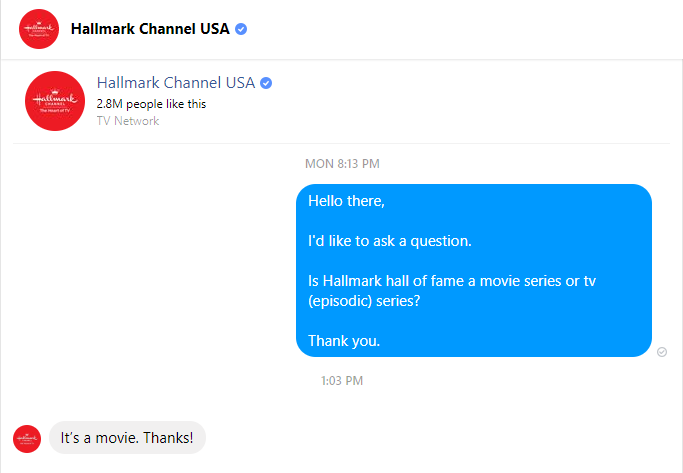 1952 - 1955 are Teleplays.
https://www.indiewire.com/2009/12/criterions-the-golden-age-of-television-223593/
This new Criterion set features some of the great teleplays of the 1950s, many of which would go on to be legendary feature films, such as
Marty
and
Days of Wine and Roses
. Or, you have something like
Requiem for a Heavyweight
, which is Rod Serling's famous pre-
Twilight Zone
portrait of a broken boxer (Jack Palance stars in a role that inspired everything from
Raging Bull
to
The Wrestler
).
These original broadcasts, though, are theater... and in some ways more vital and electric. As described by Criterion, "The hugely popular live American television plays of the 1950s have become the stuff of legend. Combining elements of theater, radio, and film making, they were produced at a moment when TV technology was advancing and making art accessible to a newly suburban postwar demographic. These astonishingly choreographed, brilliantly acted, and socially progressive 'teleplays' constituted an artistic high for the medium, bringing Broadway-quality drama to homes across the country."
A teleplay is a script used in the production of a scripted television program. In general usage, the term is most commonly seen in reference to a standalone production, such as a television film, or a television play.


Now you may find other descriptions that add the word "Series" into the description. But "Series" is not always "Episodic."
Bottom line is that these never had episode numbering attached at the time of production. If you look at I Love Lucy which was produced in that same era it HAS episode numbers. They were identified with them by the production company at the time.
IMDb will want irrefutable prima facia evidence.
Not My saying no, nor Your saying yes.
This evidence must come from the horses mouth....so to speak.
That is from Hallmark themselves. Not wiki. Not anyone else.
We are not talking about an entity that no longer exists. Hallmark exists.
Now you have been given an answer directly from that horses mouth and you chose to extrapolate a reason why to "IGNORE" it.
My My.
Every single thing points to what I have alluded to all along.
There are no episode numbers and there is no reputable source that says otherwise.
Sorry to all of you for all your work to prove me wrong.
I know that I am irritating and annoying, but I would not be here saying these things if I even was remotely unsure of what I have presented.
My only goal is the accuracy of the database.
IMDb goes off of data supplied by "TRUSTED" sources.
Find one of those trusted sources.
Until then Type Type Type a lot of nothings.
Find an IMDb accepted source and they will consider your contribution.
Stop typing.
Make a contribution with what you consider "TRUSTED".
I'll give you a trusted source. An old newspaper article from the 1950s that has an article stating something like this in the entertainment section. Tonight's premiere of Season 2 Episode 1 of Hallmark's blah blah blah. You know the drill. A REAL honest to god archived newspaper article. Research a large library like L.A. Chicago. Detroit NYC Atlanta or even a small town like Burlington, Vt for cryin out loud. Just do due diligence. Don't do it the lazy way. The internet is self perpetuating. One misstatement is repeated over and over from cite to cite. Find HARD evidence of ACTUAL season and episode numbers that are referred to.
Submit it and see how it goes.

Note to IMDb Staff
The arguments in this thread are going in circles (I fear that that's partly a deliberate strategy by some).
This ONLY concerns
a question of category
. I submit that in the years 1952-1955 "
Hallmark hall of fame
" was in every respect an anthology series. Episode length (half hour), overall subjects, weekly appearance.
It all fits the same description & properties that all the other "golden age of television" anthology series have too.
So the episodes that are currently TV movies should be converted into episodes. Please continue processing the changes that were already submitted.
Related Categories
28613 Conversations
4315 Followers